Study Plans
What is a Study Plan?
A study plan is a schedule outlining all the courses within your program and when it is recommended you complete your remaining courses. View an example below: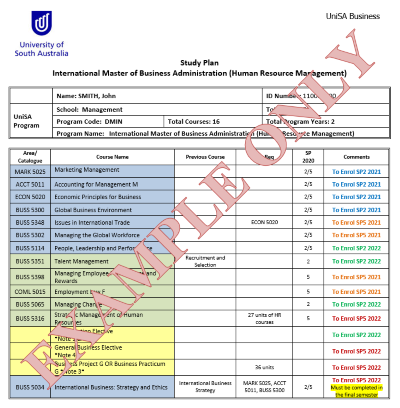 What is a study period?
UniSA has seven study periods as opposed to two traditional semesters. The main study periods are Study Period 2 and Study Period 5. Courses timetabled in other study periods tend to be delivered intensively as Summer or Winter School. Check out UniSA's Academic Calendar for more information.
How can I access a study plan?
You cannot access a study plan from the website. Please contact the Hub if you would like to access your study plan.
What is a prerequisite or a corequisite?
A prerequisite is a course you need to have completed before enrolling into one or more of your remaining courses. A prerequisite course is like a foundation course: it gives you a sound understanding of the knowledge that you will require to enable you to complete the next tier course.
A corequisite is a course that must be studied prior to or at the same time as a specific course.
What if I 'fail' a prerequisite or corequisite course?
Make an appointment to see us at the Hub where we will be more than happy to give you advice.
I am an international student; how can I apply for a Confirmation of Enrolment (CoE) extension?
If you wish to apply for a CoE extension please fill out the Confirmation of Enrolment form and then submit it to the Hub.
We recommend submitting your CoE form to the Hub no later than two weeks before your visa expires.
Phone / Email
Please contact us using the details below to have your query answered:
(08) 8302 7141 between 8:30am-4:30pm, Monday to Friday
Make an Appointment
Pre-booking is now essential. Bookings links have been emailed to all current Business students. Alternatively, please contact us using the details below to book a zoom, phone, or face-to-face appointment:
(08) 8302 7141 between 8:30am-4:30pm, Monday to Friday, or businesshub@unisa.edu.au
Drop-in services remain suspended due to COVID-19 restrictions.