After hours learning support with Studiosity
Feeling overwhelmed, stuck on a study question or not sure where to even start with an assignment?
Whether you have questions about academic writing and grammar, or maths, accounting, statistics or referencing – you can get one-to-one help from an adviser.
The best part? Studiosity is totally free for UniSA students.
How does it work?
When you get stuck on a tricky study question, or can't bring yourself to re-read your draft essay for the seventeenth time, don't stress.
There are two types of assistance you can get from Studiosity:


Connect Live



Writing Feedback

Log in and be connected live via online chat.

You'll get immediate help from friendly online adviser with academic writing, referencing, maths, first year level accounting, statistics and economics and more, as well as essential foundation knowledge for maths, science and business studies.

Studiosity's live advisers are available Sunday to Friday, 3pm to midnight.
Submit your writing anytime and get feedback with 24 hours.

An adviser will provide comments and advice on organisation and structure, English and academic language, grammar, punctuation and referencing.

NOTE: This is not a proof reading service. The adviser will not make corrections to your work.
How do I access Studiosity?
Log on to your course Learnonline site and click on the 'Studiosity' link in the Course Essentials block.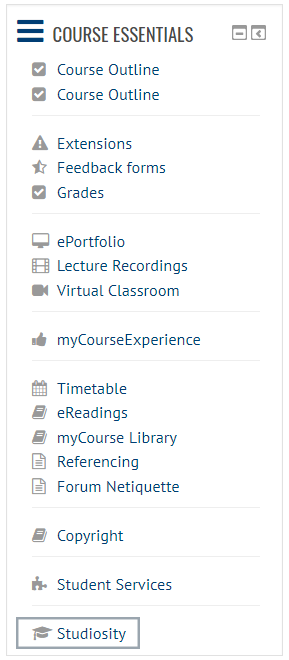 You will then see the following screen for 'Studiosity'.




Got a question?
Check out our FAQ or watch this video to see what Studiosity is all about:



Summer 2017/2018 hours
Summer's coming! Every year as student demand gets quieter Studiosity balances opening hours to match. The calendar and table below detail Studiosity's opening hours over the summer break.
| | | |
| --- | --- | --- |
| | English, Maths, and Study Coach | University-exclusive subjects (Statistics, Accounting, Economics), Sciences and Commerce |
| 4th February onwards | Normal opening hours resume | Normal opening hours resume |
Doing Summer School? It's ok - the Writing Feedback service stays open 24/7, 365 days.