Program Assessment Dashboard

The Authentic Assessment Project (AAP) is a key project of the Academic Enterprise Plan, helping position UniSA as leaders in authentic assessment. A major deliverable of the AAP is the Program Assessment Dashboard developed collaboratively by Business Intelligence and Planning (BIP) and the Teaching Innovation Unit (TIU).
One of the challenges confronting the higher education sector is the need to balance the use of assessment for quality assurance and accreditation versus assessment for motivating and improving learning. Given the dual purpose of assessment, UniSA has developed program assessment dashboards.
The dashboard provides filterable visuals of all assessments in the university. The visuals afford users the ability to interrogate assessment data including frequency, authenticity, format, domains and grades thus resulting in transparent assessment practices, which allows stakeholders to make decisions about the curriculum as well as teaching and learning activities. This tool will facilitate critical conversations regarding our future assessment practices.
Please refer to the Program Assessment Dashboard User Guide for tips and tricks and where to go for support.


Download Program Assessment Dashboard User Guide (pdf)
Where to find the Program Assessment Dashboard
Teaching Portal
To access the dashboard via the Teaching Portal, navigate to the Teaching Portal and select the Reports tab. The link (circled below) is available under the Program Reports section.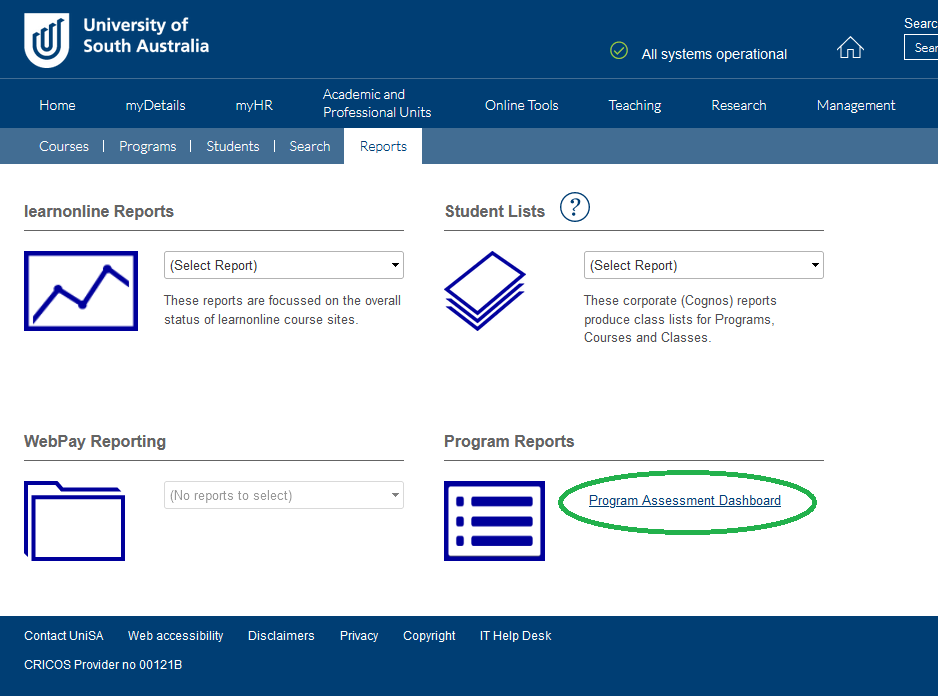 BI Hub
To access the dashboard via the BI Hub, navigate to the BI Hub and select the UniSA BI Reporting tile. From the left hand navigation, select the 'P' icon, click 05.0 Assessments and click Program Assessment Dashboard.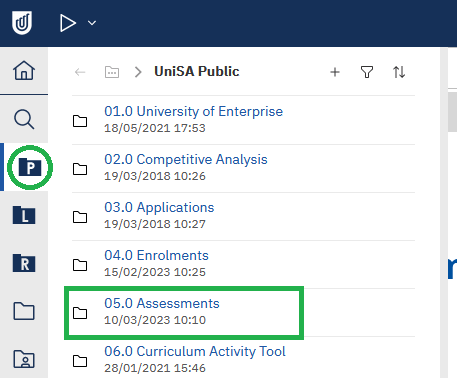 Authentic Assessment Project
Learn more about the Authentic Assessment Project (AAP) and the key deliverables of this major project.


FAQs
This section will be built up over time, providing answers to common questions that are received about the dashboard.


Contact
Technical queries
Email: tiu-onlineeducationsupport@unisa.edu.au
Assessment design queries
Book a consult with an Academic Developer

Feedback?
Wanting to share your experience using the Program Assessment Dashbaord, or have suggestions for future enhancements?
Complete online feedback form HERE.