Exam Guide for Course Coordinators
Page Contents:
Recommended text - online exams
Please add the following text to your course site as prescribed:
General exam information for students
The following information must be on your Course Site at least two weeks before the start of exam week. A suitable title you could adopt might be, Preparing for your online exam – important information.
The placement is up to you, but it should feature prominently. You may also want to make a post in the Course Announcement Forum to ensure all students receive an email regarding this.
You can include the blue text "as is" and insert your own details in the [bracket] information.
This study period the exam will be delivered online. Please read the following important information which will help you prepare for the exam and ensure you have every opportunity for success.
The link for the Online Exam is located

[

insert location on your course site, e.g. Exam tab

].



The date of the exam is

[

insert date

].



The start time of the exam

[

insert time

].



The time limit for the exam is

[

insert time limit

].

One additional hour has been added to the exam and this additional hour is already included in the total time limit.




(Optional) You can also describe the exam questions if you want.


Add a list of everything required to complete the exam e.g. writing equipment, notepaper, Scientific Calculator (non-programmable calculator).



Here is my email address

[

insert your email address

]

in case you have a question before or during the exam. Remember to contact Help Desk if you have a technical issue or query.




(Optional) Have a bottle of water and sweets.



You can choose the location of where you do the exam. This may be at your home, another suitable venue or you can complete your exam on campus. Make sure the venue is quiet, well-lit and ventilated.



If you choose to come to campus you have the options below. Please note that on-campus spaces will not be supervised. If you choose to come on campus, you are encouraged to arrive an hour before your exam is due to start to locate a space and get set up.

Computer pools/barns at each campus (not bookable).

Designated quiet spaces in metropolitan campus libraries during the exam period (not bookable).

A limited number of study rooms are available at each metropolitan campus and at Whyalla, and can be booked

here.

Maximum booking periods for study rooms will be extended to 4 hours to accommodate exams.

Spaces at the Mount Gambier campus can be booked by contacting

ian.mckay@unisa.edu.au.
Testing your computer
Students need to check their computer and internet access prior to doing the Practice Exam. You can use the following text on your Course Site.
It is important that you test your computer and internet access before you attempt the Practice Exam. Use the link below to do the test on the computer you will use during the actual exam and preferably in the location you will do the actual exam.
Here is the link: https://my.unisa.edu.au/Public/ComputerSystemTest/learnonline.
Practice Exam
The Practice Exam must be added to your Course Site as soon as possible. Make sure you clearly identify this as the Practice Exam and it is prominent for your students to find. The text below can be modified as long as the important messages are conveyed.
You are required to undertake the following Practice Exam to ensure you are prepared since the exam for this study period is being conducted online. We want to ensure you have every opportunity to let us know if there any issues during the Practice Exam so we can address them before the actual exam.
This is not a revision exam. It is a practice run to familiarise you with the actual exam so you know what to expect and can identify any technical issues.
The Practice Exam is located

[

insert location on your course site, e.g. Exam tab

].

It contains one example of each question type you will encounter in the actual exam.

The Practice Exam is available from

[

insert date/time

]

and there is no time limit as the number of questions are less than the actual exam.

You can take the Practice Exam as often as you want.

Attempt every question.

(Optional) We will follow-up any student who has not attempted the Practice Quiz as we want to provide you with every opportunity to do well.
Important: Please do the Practice Exam in the same location and with the same device (e.g. laptop) that you plan to do the actual exam. This will ensure you have fully tested both the environment and equipment you will have for the actual exam.
If you have any technical difficulties (e.g. with your laptop) during the Practice Exam contact the IT Help Desk directly. Let me know by email if you have any other questions or issues.
The Practice Exam can be attempted as many times as you like but remember that the actual exam will only allow one attempt.
Description field in the Quiz created to house the actual exam
The following text must be added to the Description field in the quiz settings. It is recommended you also tick the Display description on course page so students will see this text before opening the quiz.
Read this before the start of your exam
An extra hour has been allowed for this online version of your exam. This extra hour has already been included in the total time limit for the exam.
Make sure you attempt every question.
Once the exam starts you should begin by scanning each question to see if you have any questions. If you do have questions, then please refer to the following:
Technical difficulties - call HELP DESK
If you experience any technical issues while completing your exam contact the IT Help Desk, this may include internet connection issues or computer performance which has impacted on your ability to complete your exam. Tell the Help Desk the specific details of the technical issue, including time and any screenshots or other evidence to support your request.
*** Write down the relevant phone number below on paper in case you lose your internet connection. Use your mobile phone if your laptop is not working.
South Australia: 8302 5000
Interstate & Country: 1300 558 654 (cost of a local call)
International: (+61 8) 8302 5000 (we can call you back to minimise your call costs)
Please do not hang up even if you are on hold as a service ticket will be raised once the call is answered. This service ticket will be your evidence of an issue occurring.
Questions about the Exam - Email your Course Coordinator
To clarify any questions in the exam email me. Make sure you do this in a new web browser window or a dedicated email client to ensure you are not logged out of the exam. You can email me at any time during the exam period.
*** Write down my email on paper in case you lose your internet connection. Use your mobile phone if your laptop is not working.
[replace this text with your email]
Whilst it may seem "over-kill" we strongly recommend the same text above also be added as the first thing students see when they open the Quiz.
This can be done by adding a Description type question to the quiz as the first 'question'. Make sure this 'question' is NOT included in any randomisation.
---
Create an online exam
See the Create an online exam guide (747 KB) for an indepth look of exam creation, for those with more experience see the Quick Guide (238 KB). These guides will cover:
Linking the exam to Grader report
Edit the quiz with the correct settings
Use Categories to manage your question bank
Create questions
Add questions to the quiz
---
Question types in an online exam
These are the most common question types in the quiz we recommend being used for an online exam.
Description question
The Description 'question' is actually a text field for providing information, instructions or context. It can be added at the start of your quiz or can be used in between questions. Here is an example: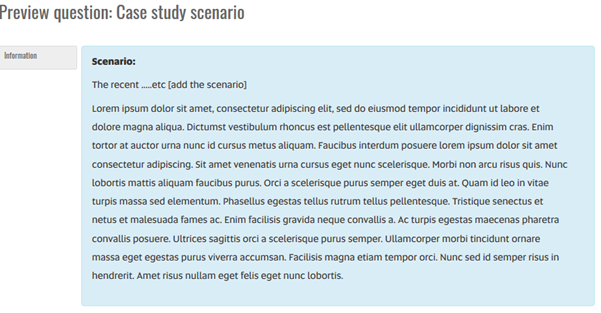 Multiple Choice Question (MCQ)
A MCQ consists of a stem and one or more potential answer options. You can include media in the stem question or answer options, such as video or images. When writing the MCQ answer options take care using "All/none of the above" if you chose to randomise the order the answer options are displayed. An alternative may be "Any/none of these answers".
Two answer options are available:
single correct answer, or
multiple correct answers (i.e. student can select multiple correct options from a list).
A MCQ exam question is automatically marked.
True/False Questions
The True/False question type is a single answer in the form or True or False. Avoid double negative questions, for example "This behaviour is not uncommon".
A True/False exam question is automatically marked.
Essay Questions
You can add files, images or embed videos in an Essay question.
Essay questions can be answered in two ways - typing the answer online directly into a free text box in the quiz or by uploading a file (e.g. word/excel doc) containing the answer.
An Essay question will need to be marked manually.
Add a file as part of the question

Embed an image or video as part of the question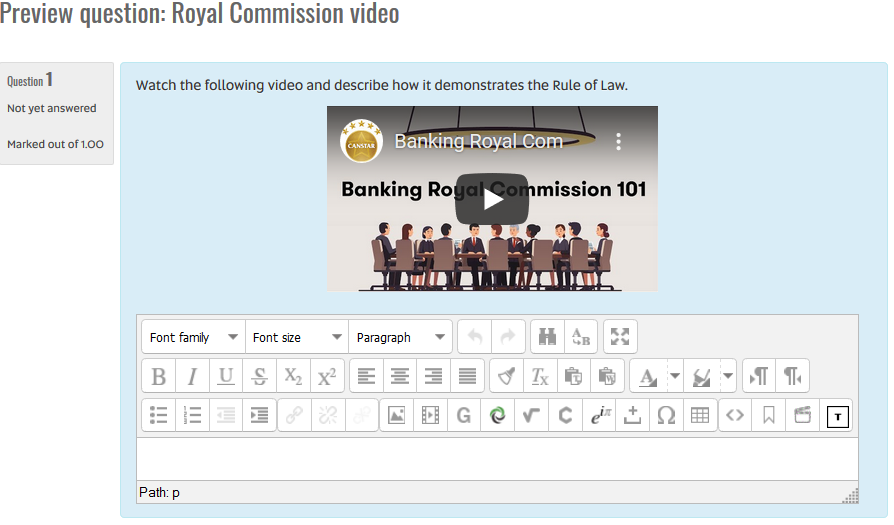 Questions requiring a written (paper based) response
Questions that require students to write their answers on paper (which could be a downloaded file) can upload their written answer to the Essay question.
To submit a written answer students can either scan their paper on a local printer or take a photograph with the mobile phone. In both cases they email the file to themselves, save on their computer and upload to the quiz.
A written question type must be included in the Practice Exam.
The additional hour added to exams is expected to allow students time to scan/image their written answers and upload to the quiz before final submission. This has been articulated in the Student Guide.
Randomisation
When offering random questions from the question bank, the quiz must still be fair and equal for all. If the sequence of the questions is not important, and there are 150 questions, you can offer 150 random questions. It will randomise the sequence of questions, but still offer the same 150 questions to all.
Some quizzes are set up with a bank of questions that can be drawn from randomly, this can offer different students, different questions. Care needs to be taken to ensure that in this random mode the difficulty of the quiz does not change as a result of this setting. This can be done by using categories, using separate categories for question type and level of difficulty. Then random questions can be offered from the categories. 
Not all exams fit a series of random MCQ's.  
Sometimes the questions build on previous questions, and students will go back and forward, adding, editing and redoing. Some exam segments are scenario-based or have clusters of questions, and the order of where these questions are placed is important. An example of this is problem-solving and analysis type questions, they have an important flow. Take care not to randomise during these sections of creating the quiz.
Other types of questions
There are a number of other question types you can either investigate via the Moodle website or book a consultation session with an OED for advice.
---
Extend the time for students with an Access Plan
Who gets extra time with an Access Plan?
Firstly, let's look at who doesn't get extra time. Students whose Access Plan gives them extra time up to 15 minutes per exam hour do not receive any additional time. The additional (Covid-19) hour is an acknowledgment of the varied circumstances, including students who require extra time up to 15 minutes per hour due to an Access Plan. In these cases, no additional time is required.
Students with an Access Plan that provides more than 15 minutes per exam hour, or who have specific requirements, may have extra time on top of the additional hour. The Access and Inclusion Team in the SEU will determine these requirements on a case-by-case basis and conditions for the exam are approved by Program Directors.
For example:
Consider a situation where a student with an Access Plan is sitting an exam, traditionally 2 hours, now 3 hours in duration.
The students Access Plan allows for them to have an extra 20 minutes per exam hour. Following review of the students Access Plan, the SEU conclude that the student will require the additional 20 minutes per hour to complete the exam above the additional (Covid-19) hour.
In this example, student will be allocated 3 hours and 40 minutes to complete the exam (2 hour exam + 1 hour extra (Covid-19) + 2x20 min Access Plan = 3 h 40 min).
How will I know if a student is to receive extra time?
Where a student's Access Plan has additional requirements, the SEU Access & Inclusion team will be in contact with you in due course to discuss. If you have any questions in relation to students who have Access Plans that require alternative assessments within their course, please contact Access and Inclusion at inclusion@unisa.edu.au.
If you would like more information on how to do this, please see the guide How to extend the time for students with an Access Plan (287 KB).
---
Expectations for open book exam
Some students won't really know whether its "cheating" or not to talk with friends, other students, look up books, past lectures or look at the course site. We can be explicit about collusion, what's allowed/expected and what isn't to address students' concerns about fairness (e.g. "other" people can cheat). The attached guide highlights some key considerations in preparing and delivering your exam online.
Expectations for Open Book Exams (147 KB)
There is no invigilation for exams delivered via learnonline. Your exam should therefore be written knowing that students may access texts and other materials during the allotted exam time.
User-limits on some library held resources (particularly etextbooks) may affect simultaneous access for multiple users so it is also recommended that exam questions are not reliant on students being able to access etextbooks during the exam. You can discover if specific library resources are subject to user limits by contacting asklibrary@unisa.edu.au.
Course co-ordinators may also like to include the following advice to students concerning online exam preparation:
Prepare early if you would like to download library materials as part of your revision of course content as some library etextbooks are subject to concurrent user limits.
---
Staff & Student checklists
Staff Checklist for Online Exams (64 KB)
Student Checklist for Online Exams (73 KB)
---
What to do in the event of an internet or learnonline outage
In the event of a system outage (ranging from a temporary loss of internet connection to full learnonline system outage), the IT Help Desk will contact you by phone (call or SMS) regarding the next course of action. The course of action for various impact scenarios, in addition to the communication strategy is summarised in the Exam impact document (162 KB).
Also, see How to extend the time for students due to a system disruption (282 KB) which includes how to grant an individual and global extension.
---
Exam FAQs
---