The Teaching Innovation Unit presents
2nd Annual UniSA Teaching and Learning Symposium 2019
Friday 8th November 2019 - City West Campus
Submit abstract (Due date 30th August) [HERE] - Register to attend [HERE]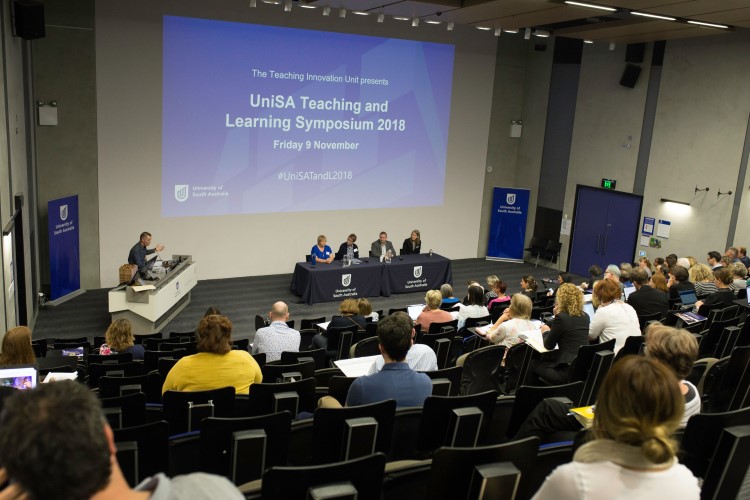 The 2019 UniSA Teaching and Learning Symposium invites educators from across the university to come together for a one-day conversation about teaching and learning. The aim of the symposium is to provide an opportunity for our educators to present on your own practices and make visible all the great work you are doing – from small scale to large. Presentations are invited on research and/or practice of all kinds. In particular, we would like to encourage discussions around the following themes:
Programs and people
Authentic assessment
Research-informed teaching (incl. data, analytics, scholarship)
Interdisciplinarity
Aboriginal content in curriculum
The 2019 T&L Symposium is about educators at UniSA talking to each other: about challenges, successes, interventions tried and failed, and learnings gained from inquiries made into theory and practice. We hope to encourage plenty of sharing and discussion. The day will close by bringing everyone together again for a celebration and some secret prize draws.
---
Presentations should take one of three forms:
Practice showcase: 15-minute presentation on practices (e.g. successes, failures, challenges, innovations, experiments).
Research paper: 15-minute presentation on inquiry-based findings, discoveries, or learnings.
Panel discussion: 30 minutes. Choose one of the themes above (or propose your own) and identify a group of relevant (and willing!) panellists to lead in discussion and/or debate.
If you would like to present, please submit an abstract by 5pm 30th August 2019 . Abstracts should be up to 400 words and include:
The type of presentation (Practice Showcase, Research Paper or Panel Discussion)
The title and all authors/contributors
The theme addressed
An abstract of the presentation
Please submit proposals [HERE]
Presenters will be notified of the outcome by Friday 13th September 2019
Registrations for the event are also now open! If you would like to attend The 2019 UniSA Teaching and Learning Symposium, please register [REGISTER HERE]
---