Academic Integrity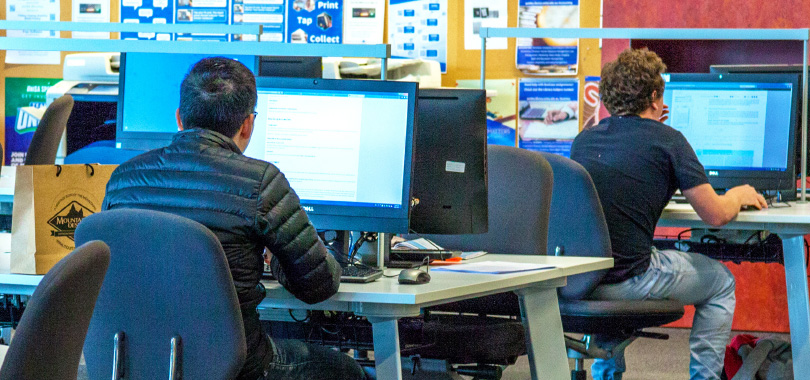 Academic integrity underpins all aspects of the academic enterprise, including teaching, learning and scholarship.
The International Centre for Academic Integrity defines academic integrity as "a commitment to five fundamental values: honesty, trust, fairness, respect, and responsibility", and the courage to uphold them "even in the face of adversity" (ICAI, 2014). Together, these values support the development of ethical judgements and behaviours necessary for learning, research, and professional practice.
University of South Australia Policy
UniSA is committed to fostering and preserving a culture of academic integrity in its teaching and scholarship, and developing students' academic integrity as part of their learning. A comprehensive policy framework guides academic assessment practices. Section 9 of the Assessment Policy and Procedures Manual (link opens in new window) deals specifically with academic integrity, and the procedures that must be followed in cases of academic misconduct.
Academic Integrity Officers (AIOs)
Each school has at least one Academic Integrity Officer that oversees each case of suspected academic misconduct. Lecturers and tutors report all suspected cases to the AIO, who ensures that they are handled quickly and consistently. The Process for Academic Integrity Officers flowchart provides an overview of the process (PDF 71kb – opens in a new window).
AIOs facilitate the:
consistent interpretation and implementation of policy
initial management of all reported cases of academic misconduct
interpretation and use of Turnitin
making of judgements in all reported cases of academic misconduct
determination of outcomes in cases where academic misconduct is established
regular reporting of academic integrity matters to relevant Heads of Schools, School boards and Division teaching and learning committees
Academic Integrity Module (link opens in new window and login required)
For research degree students, academic integrity matters are dealt with by the Deans of Research (link opens in new window). The coordination of Academic Integrity Officers across the University is managed by Dr Ruth Fazakerley (link opens in new window), Academic Developer, Teaching Innovation Unit.
Nominated Academic Integrity Officers by School
Turnitin
Turnitin is an online tool that helps to promote in students an understanding of academic integrity.
Turnitin can be accessed easily from within learnonline course sites. All UniSA students' text-based assignments are automatically submitted to Turnitin when uploaded from a learnonline course site and are compared with millions of other documents in the Turnitin database and on the Internet. A colour-coded similarity report is generated which illustrates any matched text. This is called an 'originality report'. Every document submitted is then stored in the Turnitin database for comparison with future assignment submissions.
Short instructive videos are available for both students and staff to assist in understanding Turnitin's originality reports. The student link to the video is displayed next to their similarity score in their assignment upload screen, in Student Help on Assignments, and also in the Turnitin Help site. The staff link to the video can be found on the Gradebook and Extensions Help site. There is also a useful video (link opens in new window), produced by Oxford-Brookes University in the United Kingdom, about how to interpret Turnitin originality reports. At nearly nine minutes it is longer than the videos made by Turnitin but it is contextualised well to the academic setting. The presenter is a Senior Lecturer in Business.
Post graduate students, completing their degree by research, wanting to upload their work to Turnitin need to contact the IT Help Desk requesting access to the Turnitin on the Post Graduate Students site. Note: Post graduate students completing their degree through coursework will have access to Turnitin through their course sites.
iThenticate
iThenticate is an online tool from the same company that provides Turnitin and which is especially designed for academic researchers and research students. It can be used to check your own writing to prevent inadvertent plagiarism and can also be used to help develop the quality of HDR student's writing and also the development of their own writing 'voice'.
To use iThenticate you need to be registered, and an account can be established by emailing a request to iThenticate@unisa.edu.au from your UniSA email account.
Documents or segments of writing are easily submitted to the system and are then compared with millions of other documents in both the various iThenticate databases and also the Internet. (These are more comprehensive than those used by Turnitin.) Like Turnitin, iThenticate generates a colour-coded similarity report showing any matched text and where the original can be found. This report is usually generated within a few minutes of submission. Unlike Turnitin, submitted documents are NOT stored in the iThenticate database for comparison with future submissions. This means that documents are not compared with earlier versions of themselves and, therefore, that iThenticate can be used more easily in a developmental way.
Many supervisors report that iThenticate offers a good way of working with their research students on their writing.
If you want to know more about iThenticate a Moodle resource site has been developed. This includes sections on accessing and using iThenticate, interpreting reports, FAQs and, for those wanting more complete understanding, the full iThenticate user manual. The iThenticate website also contains useful information, but remember to register through iThenticate@unisa.edu.au before trying to log in so that you are not prompted to 'buy credits' which you do not need!
Teaching Strategies
Good course and assessment design play a very important role in upholding academic integrity. A well designed course minimises opportunities for students to take shortcuts and bypass learning. Some common design strategies are listed below, but staff in the TIU can also help you with this process to tailor an approach that works for your course and program.
Strategies for designing a course:
change all assignment tasks every study period to ensure students can't share work inappropriately
integrate or 'nest' assignment tasks, so students must complete one to do the next
build in overt opportunities to track student development, such as reporting on weekly work
ask for drafts – you do not need to read or comment on them, just check they exist
ask students to conduct in-class peer review or self-assessment of these drafts against the marking criteria
consider authentic assessment that reflects real-world problems and solutions; students can find these more engaging than traditional forms of assessment
Strategies for designing assignments:
make sure instructions and expectations are clear
Provide assignment discussion opportunities to identify where students are misinterpreting your intentions; include discussion about the AI implications of tasks
prescribe source texts or insist that students use the literature from the course
specify narrow task requirements
provide unique constraints, such as dates, locations, or other details
give each student a unique data set
rather than a long written paper (such as an essay or report), ask for an annotated bibliography of prescribed sources, plus an essay outline or short literature review
use case studies or scenarios as a basis for longer papers
set reflective journals or incident accounts that require specific reference to the course
accompany major assignments with a follow-up, in-class viva or a supervised 'meta-essay'
ask questions such as "which sources were most useful and why", or "why was your paper structured in this way"
Strategies for managing group assignments:
ensure group work is not a heavily weighted form of assessment
allocate individual marks, at least for a proportion of the total marks
in addition to the product of the group work (e.g. report, poster etc.) request records of each group's process:
regular logs from each group member about progress
a final reflection from each group member about contributions and group processes
online discussion forum logs that record all group discussions and decisions
Ensure new students are familiar with UniSA's academic conventions. Point them towards the Academic Integrity for Students (link opens in new window) web site. Consider setting an early assessment activity that allows students to become aware of referencing conventions in your discipline and reinforce how to avoid plagiarism.
Exemplary Academic Integrity Project
The University of South Australia led an Australian Government Office for Learning and Teaching funded strategic commissioned project on academic integrity. The project developed support systems for identified student groups including English as an Additional Language (EAL) students, Educationally Less Prepared (ELP) students and Higher Degree by Research (HDR) students. In addition, an Academic Integrity Policy Toolkit (link opens in new window) was developed for all higher education providers to develop or review academic integrity policy.
Further Resources