2. Where to apply
In order to apply for the majority of UniSA Scholarships, you must be currently enrolled in a UniSA program. There are a few exceptions for students who intend to commence their studies at UniSA in the following year, as mentioned in step 1. Find a Scholarship
Each scholarship will indicate how you can apply within the summary of the scholarship on the UniSA Scholarships website. Some scholarships are via an application form, whereas others are applicable via SATAC or directly with a UniSA Academic Unit. The majority of UniSA Scholarships are available to apply for via my Scholarships.
(If you are interested in applying for a Study Grant via SATAC, please click here for more information).
To access my Scholarships, log into myUniSA and select my Current Studies (for students enrolled in a UniSA Online Program please select my Finances). These pathways will display a 'my Scholarships' link (under the heading 'Related Information') which when selected will take you to the myScholarships homepage.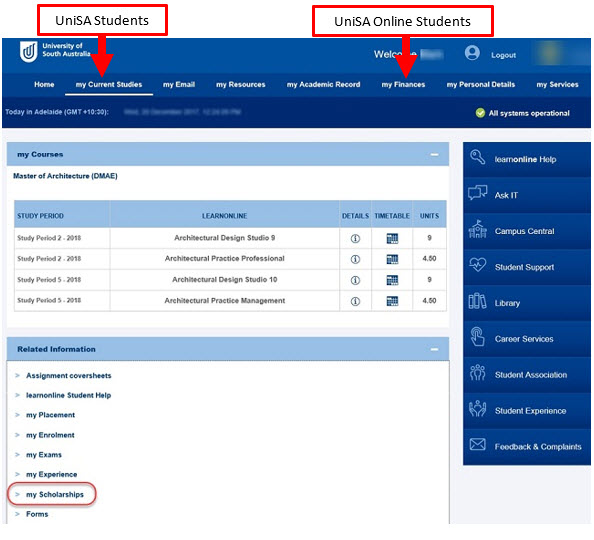 Once you are in my Scholarships, the home page will display a list of individual scholarships that are open for application. Clicking on the scholarship name will give you a brief description of the scholarship. Full details of scholarship criteria will be available from the scholarships website.
You can apply for a scholarship by clicking on the Apply button.
Once you click apply, you will be asked a few eligibility questions. It is important to answer these questions truthfully and accurately.
If you are unable to finish answering the online eligibility questions in one sitting, you can save your application and go back to it later. The status button will then change from 'apply' to 'continue' in your myScholarships homepage. Just remember to finalise your application before the closing date in order to be considered!
When responding to the eligibility questions, if you do not meet the criteria of the grant, you will be deemed ineligible and you will be notified immediately within your online application.
You may also need to provide documentation to support your application. This can be uploaded to your online application... Click below for further information.