Biosafety
Biosafety covers the proper use of biologically hazardous material. Biological hazards include any biological or pathogenic agent, substance or material (living or non-living) that may pose a threat to the health and safety of the researcher, participants, community or environment, or needs special precautions to be taken in their use or storage.
You are required to consider biosafety, health and safety issues related to your teaching or research and comply with the legislative and regulatory requirements.

A risk assessment must be conducted if your work involves biological material (including non-laboratory animals), soil, effluent or microorganisms. Research Leaders and Facility Managers are responsible for conducting the risk assessments.

Research Leaders or Facility Managers must submit an application to the Institutional Biosafety Committee before commencing work with toxins of biological origin, material which may contain microorganisms, or microorganisms of Risk Group 2 and above. To determine the risk group rating of biologicals, please refer to the ABSA website https://my.absa.org/riskgroups.
Biosafety Training
All staff and Higher Degree Research students working with biological materials, must be trained in the safe handling of biologicals.
In addition, Research Leaders of projects involving genetically modified organisms, have a legal responsibility to ensure that researchers involved in their projects have been trained in the safe containment and management of genetically modified organisms.
Details of training resources provided by UniSA are available on the Biosafety training webpage.
Policies and Guidelines
Refer to University policy RES 4.3 and the University of South Australia Biosafety Manual. The manual summarises the operation of the University's biosafety management system and provides links to other relevant resources. It includes useful information on working with biohazardous materials and genetically modified organisms, the approvals and physical containment facilities required for different types of dealings and the role of the Institutional Biosafety Committee (IBC) in overseeing research and teaching activities.
The Australian and New Zealand Standard for Safety in laboratories, Microbiological safety and containment, AS/NZS 2243.3, specifies requirements and gives recommended practices relating to safety in laboratories in which microorganisms are handled. AS/NZS 2243.3 includes requirements for facility construction, management and practice. Please refer to the Standard when conducting risk assessments and developing risk minimisation procedures. The Standard is available through the UniSA library, Techsheet database.
Project Approval Requirement
Often the greatest risk of loss, failure or injury is during the initial evaluation of project risks and the need for regulatory approvals. Misclassify risk as being negligible, exempt or not requiring regulatory approvals, can lead to unwittingly being in breach of State, Federal or International law, damaging the reputation of the University and the health and safety of people, animals and the environment.
The Project Approval Requirements form will guide you through the labyrinth of risk assessments and biosafety, human ethics, animal ethics, chemical and radiation safety approvals a project may require,.
IBC Application Requirements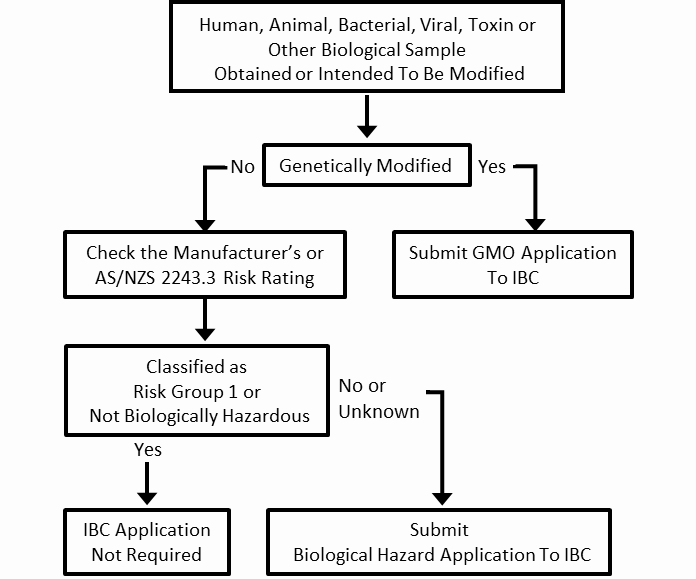 Application Form
Wild-type Organisms and Samples
IBC approval is required before project commencement when using:
Risk Group 2 wild-type microorganisms and toxins,
non-laboratory animals,
wastewater or contaminated soil,
pest plants,
primary human fluids and tissues.
This includes amongst other things: ova, embryos, sperm and seeds.
Application can be made by completing the Biological Hazard Application Form and submitting the form to biosafety@unisa.edu.au for an initial review.
Application to modify an IBC approved Biological Hazard Dealing can be made by submitting the minor modification application form to biosafety@unisa.edu.au
Genetically Modified Organisms
Use of genetically modified organisms requires IBC approval before project commencement. Details and application forms can be found on the Gene Technology webpage.
Timelines
Once you submit your application, feedback (which might include the requirement that your application be considered by a full Institutional Biosafety Committee meeting) will take a maximum of 10 working days. Please contact the IBC Executive Officer if you have not had a response within this timeframe.
Immunisation
The University recognises its responsibility to make available appropriate immunisation to employees potentially at risk of exposure to vaccine-preventable diseases. The Communicable Diseases and Immunisation Guidelines [PDF, 146 KB] provide important information on current recommended vaccinations.
Import, Export and Transfer of Biologicals
Whether biological goods are transferred internationally, interstate or just next door there are a number of items to organise. For details see the Quarantine and transfer of goods webpages.
Security Sensitive Biological Agents
Important Note: There are no facilities within South Australia currently available to undertake research using SSBAs.
For Biological Hazards applications involving the use of Security Sensitive Biological Agents (SSBA), please check the SSBA website (Department of Health and Ageing), and SSBA newsletters (published monthly).
Useful links
Further Information