myUniSA Online Student Portal
The myUniSA Online student portal contains important student announcements, a summary of your courses and assignments and links to useful webpages.
Click on any of the highlighted areas of the image below to learn about that section or simply scroll down to read more.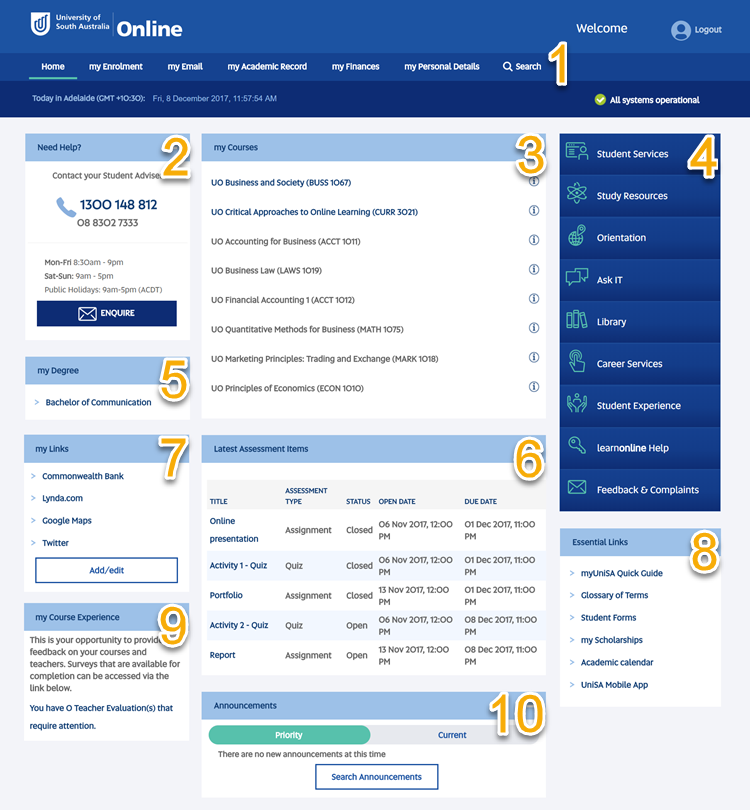 If the area you want to learn about is not highlighted, try the Help page. Or if you cannot see any of these highlighted areas on your student portal please click on the Reset Page link in the footer.
The search function appears in the top right hand corner on every page of myUniSA

Use the search function to search our extensive FAQ's on topics including:



Academic & Learning Support
Application & Admission
Degree Information
Enrolment
Exams
Fees & Financial Assistance
Results
Key Dates
Student life & support services

The Need Help? section includes contact details for the Student Adviser team. Contact your Student Adviser for enrolment advice, course planning, referrals to other services, exam information and as your first point of contact for any other questions related to your studies.

my Courses displays all of the courses you are currently enrolled in.


Tip: get to know the course details pages - this is where you can access your course messages, enrolments and assessments.

The course name will be displayed as a link when it is made available by your Online Course Facilitator, and will take you directly to the learnonline course site. Selecting the information symbol will display the course details page which allows you to access your:

course home page
course messages
class enrolments
assessments

Tip: Use the Quick Links to go straight to key services.

Student Services - resources and services provided by UniSA Online and the wider University community
Study Resources - includes a wide range of online resources to develop your academic and study skills
Orientation - complete your online orientation and familiarise yourself with the UniSA Online learning environment, the people and the support services available to you
Ask IT - the search facility for frequently asked questions about IT, including passwords, email, internet and computers and more
Library - the Library website where you can find information on any topic from the Library's online and print and database collections
Career Services - a range of services and resources aimed at maximising graduates' employability, including guidance on career planning, job-seeking, and preparing for the workforce
Student Experience - discover more about life as a UniSA student
learnonline Help - become familiar with your learnonline course site with practice activities, user guides and more
Feedback & Complaints - the Student Feedback and Complaints website is where you can provide feedback to make a real difference at UniSA. If you feel that an idea will make your time at the University better, send it through the Suggestion Box to the Vice Chancellor. The page also includes the information on the complaints process and available support

my Degree links to your degree page on learnonline where you can access your degree structure, industry, professional development, scholarship and international travel opportunities, student services, study resources and any additional requirements specific to your degree.

Assessments due two weeks before or after the current date will display in the Latest Assessment Items section.

As well as seeing your recent and upcoming assignments, you can link directly to learnonline Assessments to upload your assignments and check the status of previously submitted assignments.

my Links is where you can store a list of your favourite websites that you use regularly for your studies.

Tip: Update your my Links at the beginning of every study period. Think about including links to your student services website and course related library databases.

See the Help page for instructions on how to add, edit and delete my Links.

Essential Links provides shortcuts to information and resources you may need during your studies


my Course Experience is where you will be notified on course and teacher evaluations. Check here regularly during and after completing courses.

Announcements are added to myUniSA on a regular basis and contain important messages relating to study, opportunities and events.

Tip: read myUniSA announcements to stay informed.

The first day an announcement appears, it will display in the Current tab. The next day it will move to the Previous tab and stay there for around two weeks. When an announcement no longer appears in either tab, you can still find it using the Search Announcements function.
For more information or assistance using myUniSA Home, please see the Help site.