myUniSA Research Home
The myUniSA Research Home page is the first page that appears after you login. It contains important student announcements, summary of your courses and assignments plus links to useful student resources.
Click on any of the numbered sections below to learn about that section.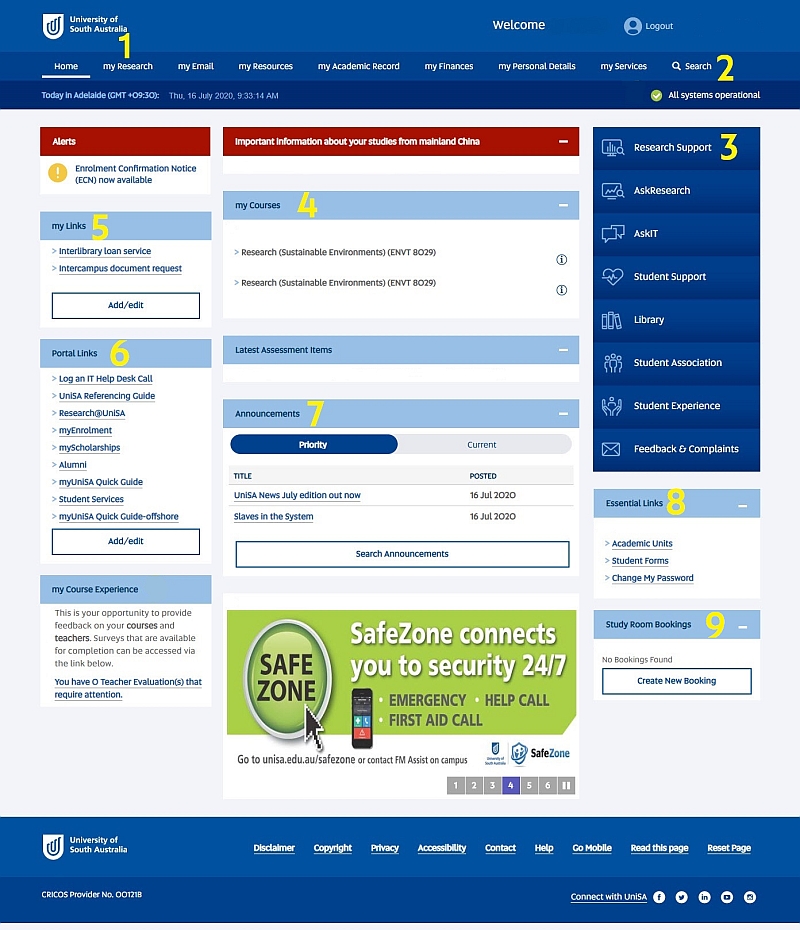 1
Click on "my Research" pillar to go to the research portal where you can access forms, your scholarship information, leave information, EDGEx, reviews of progress and more.
2
The search function appears in the top right-hand corner on every page of myUniSA. It searches the AskCampus Central knowledge base, providing answer to any question.
3
Use the Quick Links to go straight to key services.
Research Support - link to EdgeX (Enhancement of Doctoral Graduate Employability), the tool used by research students to enhance your PhD experience, support you to undertake high quality research and complete on time, and help you thrive in a dynamic employment market.
Ask Research - links to the Graduate Research Centre, which supports research degree students through services, information and resources.
Ask IT - links to the search facility for frequently asked questions about IT, including passwords, email, internet and computers and more.
Student Support - links to resources and services provided by the Student Engagement Unit, including learning advice, counselling services, access and inclusion, legal advice, mentoring, and international student services.
Library - links to the Library website where you can find information on any topic from the Library's online and print and database collections.
Student Association - links to UniSA's democratic organisation run by students to provide voice for student opinions and to develop leadership skills, advice with academic issues, and play via events, sporting, social and academic clubs.
Student Experience - links to the Student Experience where you will find out how to take advantage of the many opportunities available at the University - whether you want to boost your employability or have fun in a social environment.
Feedback & Complaints - links to take you to the homepage for student feedback and complaints. Here is where you can provide feedback to make a real difference at UniSA. If you feel that an idea will make your time at the University better, send it through Suggestion Box to the Vice Chancellor. The page also includes the information on the complaints process and available support.
4
my Courses displays all the courses you are currently enrolled in.
Tip: get to know the course details pages - this is where you can access your enrolment details.
If the course has a learnonline website, the course name will be displayed as link to take you directly to the learnonline course website.
Selecting the information symbol course title link will display the course details page. The information available to you will vary depending on what type of student you are and how you are studying.

5
myLinks allows you to store a list of your favourite websites on your myUniSA homepage. Add links from any website you use regularly for your research.
Tip: Update your links regularly. Think about including links to your local research support staff and research degree student website.
See the Help page for instructions on how to add, edit and delete my Links.
6
Portal Links allows you to add links from a range of UniSA sites and applications.
Tip: add all of the sites and applications you will use. In particular, you might like to add links to your Academic Unit websites.
See the Help page for instructions on how to add, edit or delete Portal Links.
7
Announcements are added to myUniSA on a regular basis and contain important messages relating to study, opportunities and events.
Tip: read myUniSA announcements to stay informed.
If an announcement is a high priority, or on its first day being posted, it will display in the Priority tab. If an announcement is not high priority, it will move to the Current tab on the next day and stay there for around two weeks. When an announcement no longer appears in either tab, you can still find it using the Search Announcements function.
8
Essential Links provides shortcuts to important information and resources about the University of South Australia. These cannot be edited.
9
If you want to study on campus with a small group, create a room booking to allocate a room at a time that suits you. Rooms can be booked in 30 minute blocks.