myUniSA Research Home
The myUniSA Research Home page is the first page that appears after you login. It contains important student announcements, summary of your courses and assignments plus links to useful student resources.
Click on any of the numbered sections below to learn about that section or simply scroll down to read more.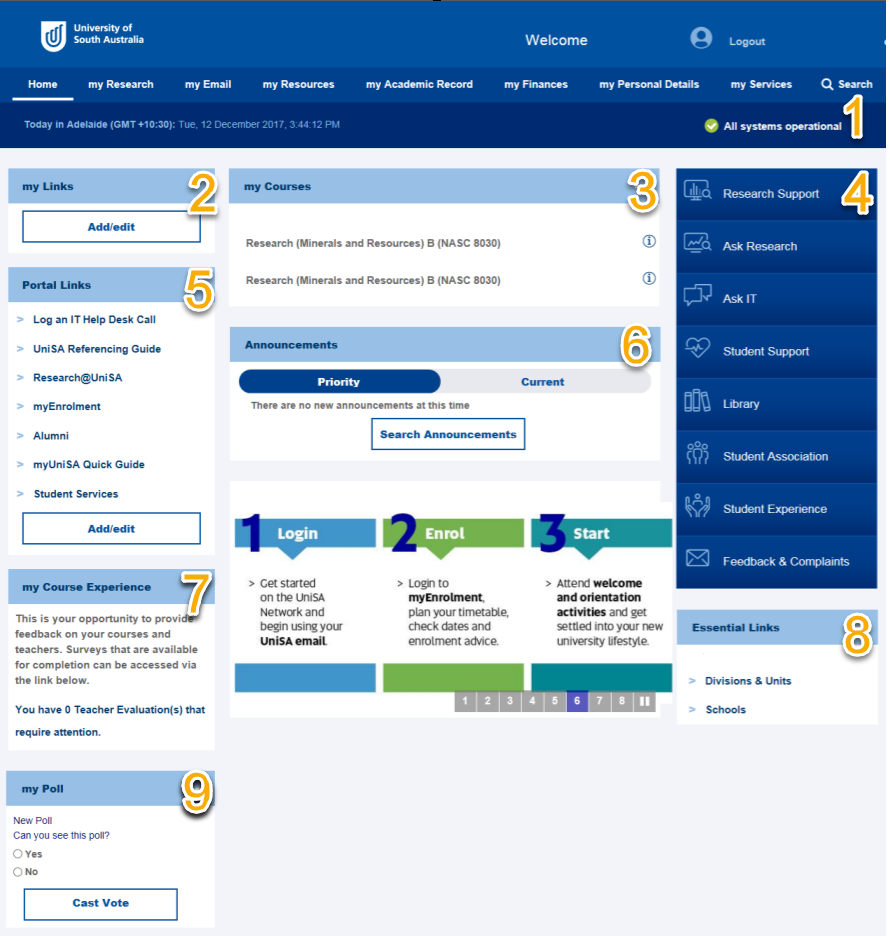 If the area you want to learn about is not highlighted, try the Help page. Or if you cannot see any of these highlighted areas on your student portal please click on the Reset Page link in the footer.
The search function appears in the top right hand corner on every page of myUniSA

Tip: search the UniSA website from myUniSA

Use the search function to search UniSA website



my Links allows you to store a list of your favourite websites on the homepage of myUniSA. Add links to any websites you use regularly for your studies.

Tip: Update your links at the beginning of every study period. Think about including links to your Course Coordinators home pages and course-related library databases

See the Help page for instructions on how to add, edit and delete my Links.

my Courses displays all of the courses you are currently enrolled in.


Tip: get to know the course details pages - this is where you can access your enrolment details, discussions and exam timetables - plus lots of other course related information.

If the course has a learnonline website, the course name will be displayed as link to take you directly to the learnonline course website.

Selecting the information symbol course title link will display the course details page which allows you to:

Access your course home page and course coordinator staff home page
View your class enrolments
Access your course resources
Access your course discussions
View postal assignments, exam timetables, and dispatched course materials

The information available to you will vary depending on what type of student you are and how you are studying.

Tip: Use the Quick Links to go straight to key services.

Research Support - links to the Student Engagement Unit's Research Education Team who provide on-campus workshops, professional development opportunities, online resources, as well as one on one assistance with writing your thesis, communicating the results of your research through journal articles and more
Ask Research - links to the Graduate Research Centre, which supports research degree students through services, information and resources
Ask IT - links to the search facility for frequently asked questions about IT, including passwords, email, internet and computers and more
Student Support - links to resources and services provided by the Student Engagement Unit, including learning advice, counselling services, careers and employment advice, and specialised services
Library - links to the Library website where you can find information on any topic from the Library's online and print and database collections
Student Association - links to UniSA's democratic organisation run by students to provide voice for student opinions and to develop leadership skills, advice with academic issues, and play via events, sporting, social and academic clubs
Student Experience - links to the

Student Experience

where you will find out how to take advantage of the many opportunities available at the University - whether you want to boost your employability or have fun in a social environment
Feedback & Complaints - links to take you to the homepage for Student Feedback and Complaints. Here is where you can provide feedback to make a real difference at UniSA. If you feel that an idea will make your time at the University better, send it through Suggestion Box to the Vice Chancellor. The page also include the information on the complaints process and available support.

Portal Links allows you to add links to a range of UniSA sites and applications from a list of options.

Tip: add all of the sites and applications you will use. In particular, you might like to add links to your school or division websites.

See the Help page for instructions on how to add, edit or delete Portal Links.

my Course Experience is where you will be notified on course and teacher evaluations. Check here regularly during and after completing courses.

Announcements are added to myUniSA on a regular basis and contain important messages relating to study, opportunities and events.

Tip: read myUniSA announcements to stay informed.

If an announcement is a high priority, or it is the first day that it is posted, it will display in the Priority tab. If an announcement is not high priority, it will move to the Current tab on the next day and stay there for around two weeks. When an announcement no longer appears in either tab, you can still find it using the Search Announcements function.

Essential Links provides shortcuts to information and resources about the University of South Australia. These cannot be edited.


My Poll allows you to participate in university surveys and polls. It is the place to make your opinions count.
For more information or assistance using myUniSA Home, please see the Help site.