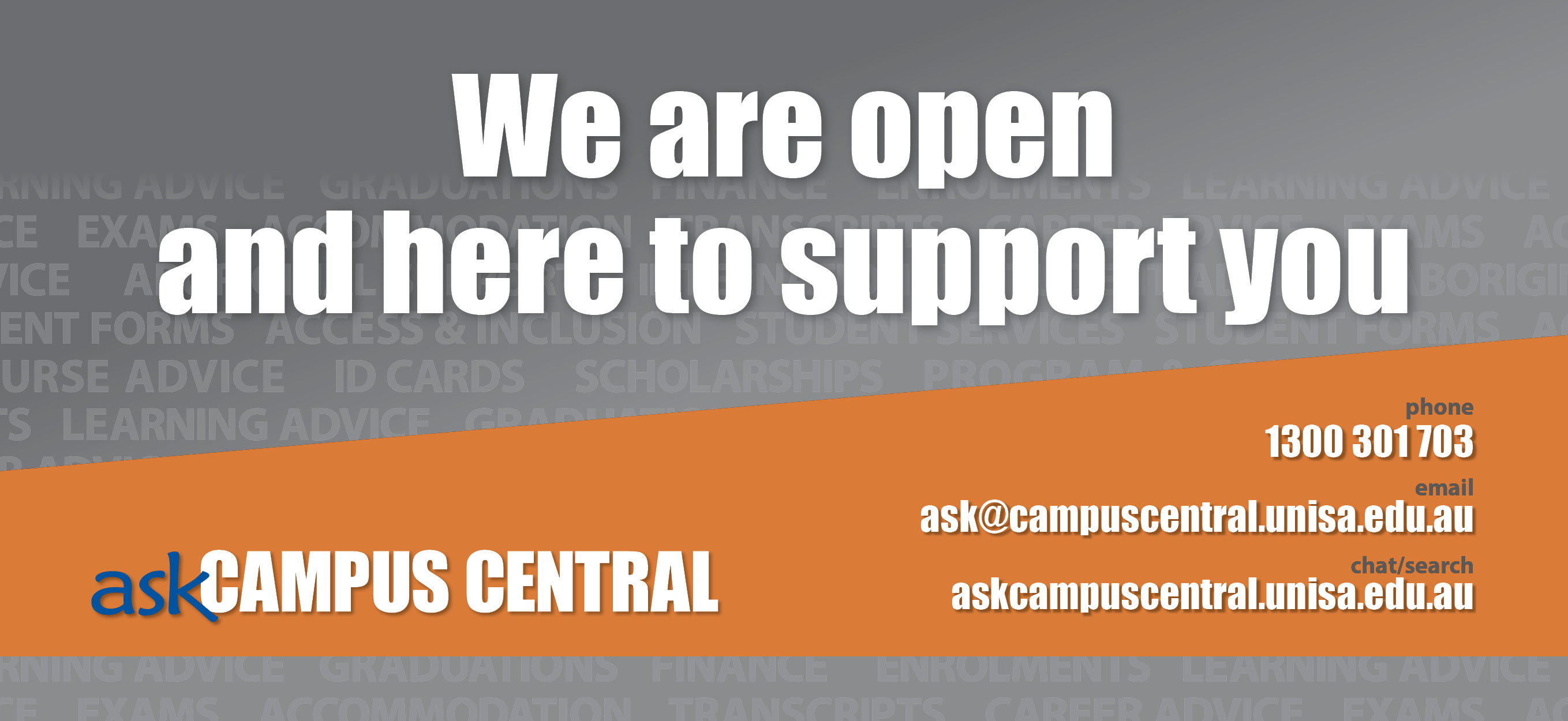 Contact Us
For advice on any aspect of student life.
Campus Central offices on metro campuses are open between 8.30am to 6.00pm, Monday to Friday.
You can contact us by phone, enquire/chat online, or in person. We have an office located on each campus for your convenience.
UniSA General enquiries: 1300 301 703
UniSA General enquiries from outside Australia: +61 8 8302 0150*
Open Universities Australia (OUA) enquiries 8.30am to 5.00pm (CST): 1300 361 450

*If you are unable to call us from your location overseas, please submit an enquiry or chat online.
City East
Open Universities Australia (OUA)
Level 3 - Playford Building

Postal address:
Campus Central - City East
University of South Australia
GPO Box 2471
Adelaide SA 5001
Ground Floor - Main Building

Postal address:
OUA Campus Central - Whyalla
University of South Australia
111 Nicolson Avenue
Whyalla Norrie SA 5608
City West
Mawson Lakes
Level 2 - Jeffrey Smart Building

Postal address:
Campus Central - City West
University of South Australia
GPO Box 2471
Adelaide SA 5001
Ground Floor - C Building

Postal address:
Campus Central - Mawson Lakes
University of South Australia
GPO Box 2471
Adelaide SA 5001
Magill
Mt Gambier
Level 1 - B Block

Postal address:
Campus Central - Magill
University of South Australia
GPO Box 2471
Adelaide SA 5072

Learning Centre - Wireless Road West


Postal address:
Campus Central - Mt Gambier
University of South Australia
Wireless Road West
Mount Gambier SA 5290

Whyalla
Ground Floor - Main Building

Postal address:
Campus Central - Whyalla
University of South Australia
111 Nicolson Avenue
Whyalla Norrie SA 5608