Ancient Land Processional Composed by Deborah Cheetham AO

🔊 Click here * (MP3 1MB) to listen to a short sample of the full musical composition.
*This music is subject to copyright.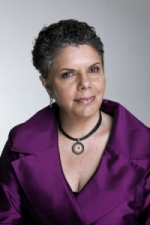 The music, Ancient Land Processional, played at the start of the graduation ceremony has been composed by Deborah Cheetham AO. The work is sung by the Ngarrindjeri Women's Choir and the Marryatville Concert Choir, supported by the Adelaide Symphony Orchestra, conducted by Nicholas Buc.
"From the beginning I wanted this processional to be a powerful reminder that knowledge has been passed for more than 2000 generations on the lands that the University now occupies.

For that reason it was essential to include the traditional language groups from each of the campuses of the University of South Australia - Kaurna (Adelaide), Bunganditj (Mt Gambier) and Bangarla (Whyalla). Ancient Land Processional is music for ceremony and for celebration.

I wanted this work to convey the importance and excitement of one of life's great rites of passage – the graduation ceremony." - Deborah Cheetham AO