UniSA provides eligible students with Travel Insurance for study related travel.
Eligible Students - Travel Insurance cover is only provided free of charge if:
1. You do not have any pre-existing medical conditions.
2. Your age while travelling does not exceed 74 years.
3. You are receiving academic credit for the study related travel.
Personal Travel Information: Max 50%, cannot exceed duration of UniSA Approved Activity, otherwise students will need to arrange their own insurance.
Prior to commencing your travel you must:
You must register all travel plans via a completion of a Business Travel Request ('BTR') form; which is a mandatory requirement for all staff and students travelling as part of a university program.
To access the BTR, navigate to your Business Travel portal in Appian. Your portal provides links to the BTR form and your Traveller Profile (which must be updated before each request), as well as links to your current and historic BTRs (when initiated within Appian).
Once you have completed the BTR you are automatically covered by the University Travel Insurance unless you have been given directions to contact University Insurance Officer which appear at the end of the BTR process.
The below image is example of Confirmation Travel Insurance approval.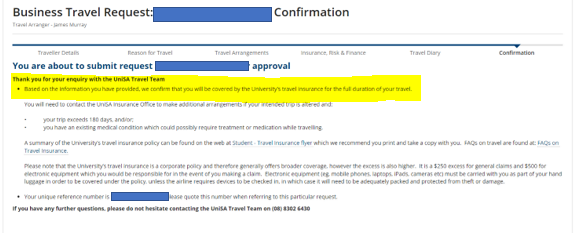 Unless travel arrangements are registered on a BTR prior to commencement of travel, lodging a claim for any event giving rise to a claim, will be problematic.
It is also strongly recommended that staff and student review guidance relating to travel destination with the Australian Government's Smartraveller service: smartraveller.gov.au
Policy excess:
UniSA Travel Insurance has a standard policy excess (or deductible) of $250 and a $500 excess for electronic equipment. The traveller is responsible for any excess deducted on settlement of a claim.
UniSA is not responsible for expenses incurred that are not covered by the policy.
Travel Policy Information:
Useful links