Campus Security
Your safety is paramount to us here at UniSA, so security plays a very important role. UniSA's Campus Security is available 24 hours a day, seven days a week. Security officers patrol the campuses by day and offer even stronger protection at night. They can provide you with first aid or help in an emergency.
Stay safe: Use a UniSafe escort when moving around the campus at night, and follow our tips for personal safety.
In case of emergency
Call 000 to contact the state Emergency Services (Police, Fire, Ambulance). In non-emergency situations, you can also contact the Police on 131444.
Call Campus Security
Use a security phone: Several locations on all campuses are equipped with emergency wall phones for direct contact with security staff. These are distinguished by a sign overhead. They will automatically dial security.
Call 88888 from internal University telephones
Call 1800 500 911 (24-hours, free call)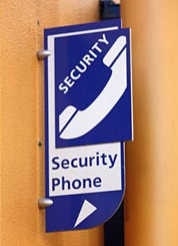 Campus Security offices
Campus
Location
Contact Number
City East
Centenary Building, Level 3, Room C3-48
(08) 8302 2222
City West
Jeffrey Smart Building, Level 1, Room JS1-05C
(08) 8302 0000
Magill
Block 1 (B1), Level 1, Room B1-37
(08) 8302 4444
Mawson Lakes
Administration Building A, Level 1, Room A1-15
(08) 8302 3333
Whyalla
Main Building, Level 1 adjacent to main entrance
(08) 8302 6050
Mt Gambier
External - Security Patrol Response

Use a security phone: Several locations on campus are equipped with Emergency wall phones for direct contact with staff. These are distinguished by a sign overhead. They will automatically dial security.
Call: 88888 From internal University phones
Call: 1800 500 911 (24 hours, free call)