The University is focused on making your time with us an enjoyable and smooth experience, so we have invested in the SafeZone App to protect your safety.
SafeZone is a smart phone based safety initiative for use on all UniSA Campuses. The free App will connect you directly to the UniSA Security team should you need our assistance or emergency support while you are on campus.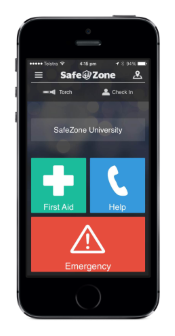 How do I get SafeZone?
The app is available on the Apple iStore or Google Play by searching for 'SafeZone'. Alternatively you can click the buttons below. Once you've downloaded the app, you'll need to register using your UniSA email address.
University Staff are also able to install a "desktop" version of the SafeZone application. To install the desktop program select Software Center from the Start Menu on your UniSA Windows 10 computer, then click on Applications then SafeZone and select Install.
What are the key features?
Help Call

Lost on campus or need advice? Pressing the HELP CALL button will provide you with immediate assistance from the Security team. Once you've activated the help call function, Security will be able to track your approximate location.

First Aid Call

Need medical assistance? Pressing the FIRST AID CALL button will connect you immediately with a trained First Aid Officer. Once you've activated this function, the First Aid Officer will be able to track your approximate location.

Emergency Call

Feel threatened or see something suspicious? Pressing the EMERGENCY CALL button will immediately connect you with our UniSA Security team. Once you've activated this function, the Security team will be able to track your approximate location.

Check In

Working alone or late at night? Pressing the CHECK IN button will allow Security to quickly identify who is on campus if an incident occurs.

Campus Notifications

If there is an incident on campus that requires you to take action, the Security team may send you message(s) with ongoing advice and instructions on how to stay safe.

Privacy

SafeZone does not track your location until you make an Emergency, Help or First Aid call. All information that your provide as a SafeZone user is protected by Privacy Laws.

Wellbeing Assistance

The Wellbeing Assistance button connects you to a variety of information and support directly related to your Wellbeing.
Where will SafeZone work?
The SafeZone service will work within any of the campus areas defined below. If you use SafeZone outside of these areas, the app will direct you to call 000.
Campus Zones
FAQ