Performance Concerns & Termination
Support and resources in managing underperformance can be found on our Performance Development and Management (PDM) webpage. Please reach out to People Central should you need additional help and support in managing any performance issues as soon as possible. General and confidential support regarding performance management is also available through our Managers Assist EAP service.
Performance Management
The Line Manager is responsible for:
Ensuring that the provisions of the Probation for Academic Staff Policy (HR – 7) are applied to all academic staff who are on probation in their area and any actions taken in line with the Vice Chancellor Authorisations.
Facilitating the performance management process in accordance with these procedures and the performance development and management framework.
Ensuring that unsatisfactory performance is promptly identified, documented and communicated to the staff member and development support provided.
Recommending the confirmation or termination of employment to the appropriate delegated authority with timing that allows for at least three months' notice to the staff member prior to the end of probation.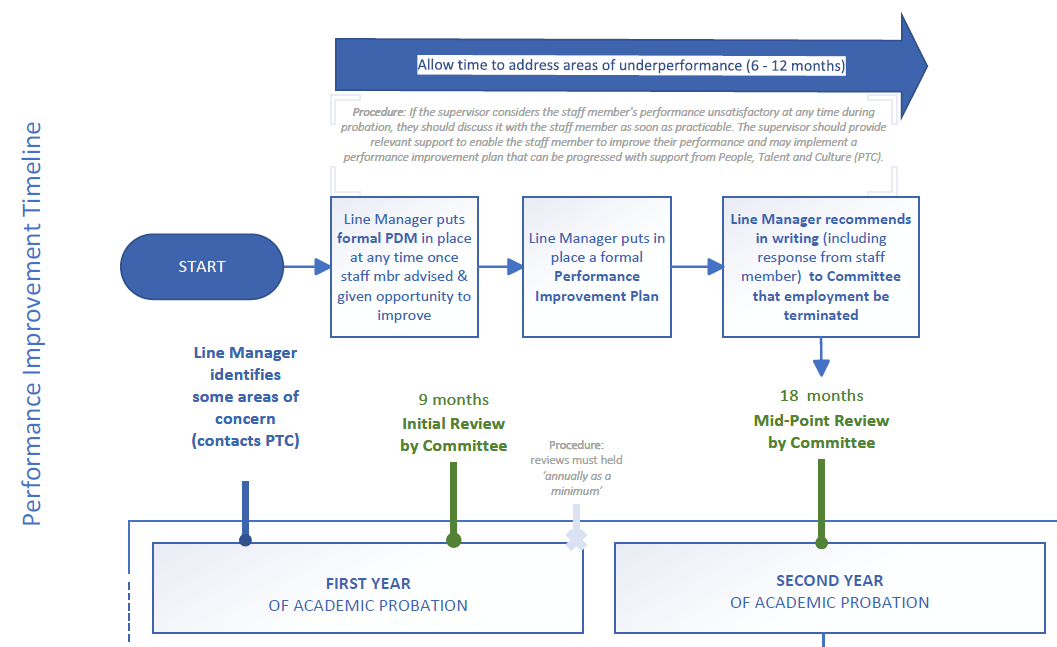 Termination
Procedure states:
Termination of employment can only occur through the process outlined [in clause 5.] prior to the end of probation. If termination of employment is necessary after the end of probation has passed, then the disciplinary procedures in the applicable industrial instrument must be followed…..It is important to consider the requirement to provide the staff member with the appropriate notice period (3 months), if termination of employment is eventually determined as the appropriate probation outcome.
Compliance supported via: