PTC Systems Support
The following links provide resources to assist the relevant PTC teams to respond to end user queries in the first instance. End users can also access FAQs via AskPTC and AskIT for queries related to network accounts and email.
Access to HR / PTC Systems can be requested via the Human Resource Information Systems Access Form available on the Forms for PTC Administrators webpage.
The HR-IMTeam can also provide some systems support for users of SharePoint and Epi-Server (PTC web authors). Access to the PTC SharePoint is granted via addition to the PTC email distribution list(s) and is instantaneous. CMK grant access to EpiServer - see CMS User Training for more information (please note, at 1 June 2021, this site is under maintenance). For how HR systems are integrated with other UniSA systems, see the Systems Diagram 2021 webpage.
If queries or issues cannot be resolved, please contact the HR-IMTeam for assistance.
Please note: to access all pages and navigation in this sub-site, you will need to be logged in with your UniSA username and password via myUniSA or via login on specific pages.


System Alerts / News
HR System Access Form signatories: just a reminder that to comply with auditing requirements, all forms must be signed by the applicant, PTC and the head of the area e.g. the Executive Dean / Director of Unit (not the Program Services Manager for the area). July 2022.
Appian VCA register: the VCAs are appearing in the Appian approver dropdowns 24 hours later than expected / when they are added to the VCA register i.e. VCAs will not be available in Appian on the 1st day of an appointment. IT is currently working on a fix. June 2022.
Service Cloud paperclip: when forwarding enquires from Service Cloud, the paperclip icon which allows you to add attachments has disappeared. Right-clicking in this space will still allow attachments to be selected though, just the icon is missing. This is an Oracle bug and will be fixed in their next release. In the meantime, if you use the 'Redwood' theme you will be able to see the icon (as per PTC wide email sent on 20/6/2022. June 2022
System error: The following error sometimes occurs when accessing Appian forms and is generally a temporary browser issue and should rectify itself within a few minutes. Alternatively, copy the link into another browser. May 2022.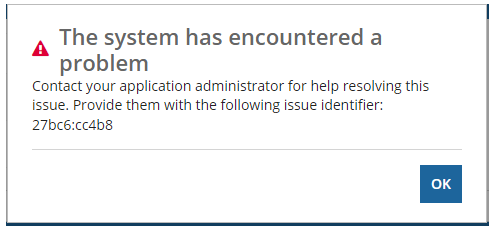 See ISTS system alerts on the Service Status Announcements page and PTC System Alerts (archived).