Slips, Trips and Falls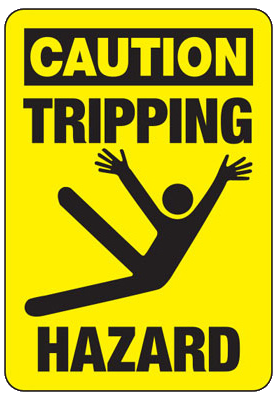 This page provides general information on managing risk associated with slip or trip hazards at the University.
Slips and trips is a common incident type at the University, generally accounting for 23% of injuries. Each year slips, trips and falls result in thousands of preventable injuries. Common injuries include bruises, strains and fractures and sometimes those affected can take a long time to recover.
Most slip and trip hazards occur on campus however, some can occur when travelling to and from campus and between campuses.
Slip, trip and fall hazards that often occur at the same level or from height include:
Uneven steps or worn step protective strips (indoor and outdoor)
Uneven or damaged floor surfaces (eg, ridges between carpet and tiles, damaged carpets, rotted floorboards)
Uneven ground surfaces on and off campus
Loose mats, especially on polished or tiled floors
Wet or oily floors (eg, bathrooms, recently washed floors or spills)
Obstructions (eg, excess furniture, electrical cords, boxes)
Inappropriate footwear
Carrying loads which obstruct the view
Misjudgement due to poor concentration such as when talking on a mobile phone
Poor lighting
Risk management
Control hazards to prevent injury:
Clean up spills immediately. If the floor is wet, use appropriate signs to indicate that extra care is required or direct pedestrians via an alternate route
Display signs to warn pedestrians of any changing surfaces i.e. from wet to dry and position non-slip matting appropriately to avoid incident
Ensure matting is securely fixed and does not present a trip hazard
Assess the cause of a slippery surface to identify whether an alternate surface or maintenance/repair of the surface is required to prevent injury
Aim to position equipment away from thoroughfares. Use cable guards to cover electrical cables where required
Ensure non-slip edging on stairs is maintained and visible and that handrails are secure
Avoid using stairs when carrying loads
Prompt reporting of slip, trip and fall hazards allows appropriate action to be taken to prevent injury, even if the hazard has been identified off campus
Training
References and resources