Renewed contracts & reactivating staff ID cards
Building access is denied on a staff member's last day at the University at close of business (their staff ID card will no longer be active) but if they still have an active network username, a casual or fixed term staff member can simply reactivate their staff ID card by following the instructions below.
After accepting a new contract, log on to the myUniSA Staff Portal
Click on the 'My Details' tab
Select 'My Access' from the menu
Click on 'ID and Access Card'
Click on the 'Reactivate' button
Please note: this button will only appear 2-3 business days after the new contract has been finalised
Please allow 24 hours for your Staff ID to update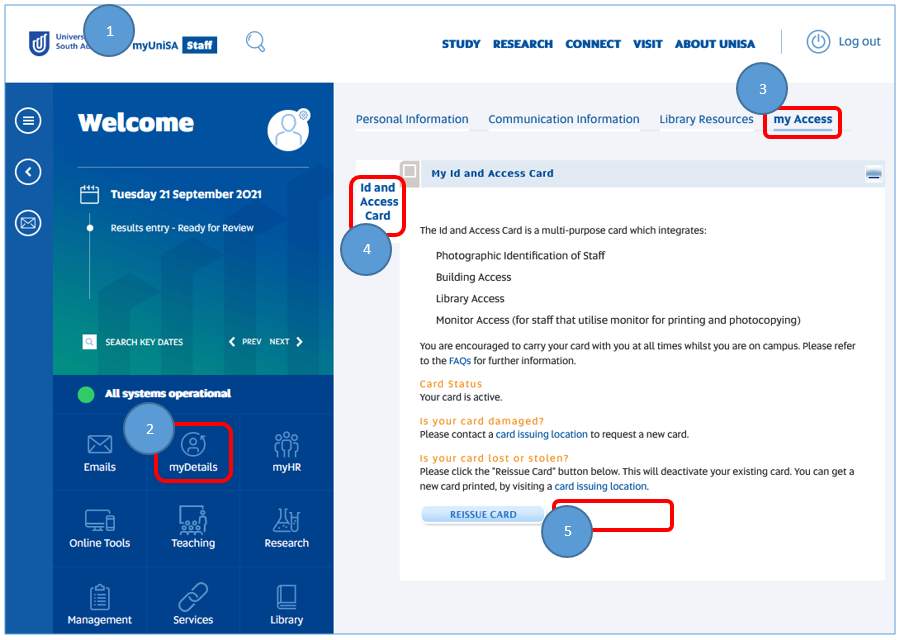 Please note: new casual staff members or casual staff that have a gap between contracts and no longer have an active network username, will need to collect their staff ID card (if building access has been requested) from FM Assist on their first day by presenting photo ID. Please see the FM Assist Services webpage for the FM Assist Contact Details.