To 'Send on Behalf' or 'Send As':
Start a new email
Click From
NOTE: See Enable From if not visible

From the dropdown list click Other E-mail Address


Enter desired email address or click Find and locate it in the Address Book
NOTE: Once entered, in the future you can just select the email address from the dropdown in Step 3.
Click OK


The email will now be sent from the email address listed to the right of From

NOTE: Staff email profiles are by default called UniSA Exchange. So if UniSA Exchange is listed to the right of From then the email will be sent from your staff email address.
Enable From
Once enabled it will always be available: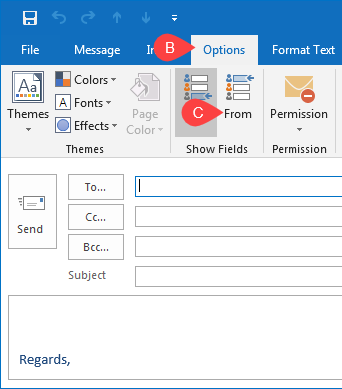 A) Start a new email
B) Click the Options tab
C) Click From under the Show Fields section
Back to Step 2
Further Assistance
If you require further information or assistance please contact the IT Help Desk on (08) 830 25000 or 1300 558 654.