Making a call via Microsoft Teams app
You can call anyone directly from the Microsoft Teams app. (Please note that you may need to give permission before you are able to use the Webex Call menu).
Click the Webex Call option in the navigation bar on the left.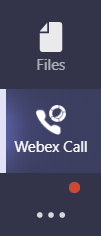 Further Assistance
If you require further information or assistance, please contact the IT Help Desk on (08) 830 25000 or 1300 558 654.