What are guests sent once they are registered?
Whether sponsors register guest(s) or guest(s) register themselves, they will receive an email with their temporary login details for the UniSA Guest Wireless.
The email will come from ithelpdesk@unisa.edu.au with Subject: UniSA Guest Wireless Information. See below for an example email of what guests receive once registered:
Once guests have been registered by their UniSA event 'sponsor' or register themselves they will receive a similar email to this one.
If they have not received it within an hour of registration they need to check their junk email etc to ensure it has not been delivered somewhere else other than their Inbox.
If a UniSA event 'sponsor' registered the guest and one of the following scenarios occurs, the guest needs to contact their UniSA event 'sponsor' who will be able to resend the email to them:
not received the email;
misplaced the email;
accidentally deleted the email;
If the guest registered themselves and/or is currently physically on a UniSA Campus and their UniSA event 'sponsor' is a conference facilitaor, who is currently attending to other conference matters, the guest can call the IT Help Desk.
NOTE: This is only recommended after attempting to seek assistance from their UniSA event 'sponsor'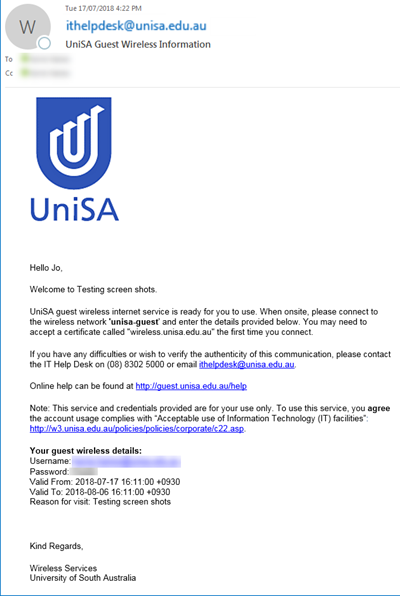 Further Assistance
If you require further information or assistance, please contact the IT Help Desk on (08) 830 25000 or 1300 558 654.